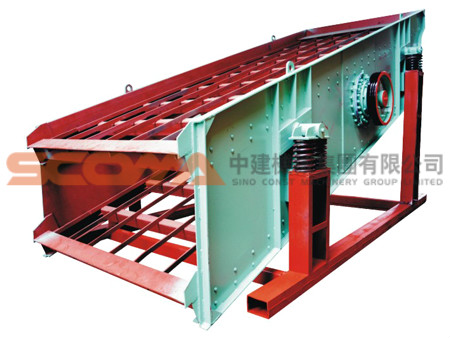 Materials rolling in circle on vibrating screen. It's special design for quarries screening stones. It also can be used for screening coal, mine, construction materials etc. This vibrating screen structure in advance, strong in vibrating, low noise, easy for maintenance etc.

Advantages & Characteristics:
1. Adjustable vibrating frequency.
2. Uniform screening
3. Large capacity
4. Reasonable structure, firmer and durable
brating feeder used two motor vibrating the feeder to control the feeding speed, keep the whole production line working smoothly. Line feeder's characteristics: smoothly, working reliable, long life working etc.

Feeders can feed continuously and evenly and make a first choosing. It widely used crushing and screening equipments for mining, construction, silicate, chemical industry.


Main Technical Parameters


Model

Layer

Specification

Max.feeding
(mm)

Ability to handle
(t/h)

Vibration frequency
(hz)

Electric power
(kw)

Weight
(t)

Shape
dimension
(mm)

2YKL1550

2

1500×5000

200

30-180

13-16

18.5

4.5

4830×2220×3100

3YKJ1550

3

1500×5000

200

30-200

13-16

18.5

5.8

4830×2220×3530

4YKJ1550

4

1500×5000

200

30-250

13-16

22

6.36

4830×2240×4280

2YKJ1860

2

1800×6000

250

50-300

16.2

18.5

5.5

6060×2520×3550

3YKJ1860

3

1800×6000

250

50-300

16.2

22

6.5

6060×2520×3980

4YKJ1860

4

1800×6000

250

50-300

16.2

30

7.5

6060×2520×4720

2YKJ2060

2

2000×6000

250

100-400

16.2

18.5

6

6060×2720×3550

3YKJ2060

3

2000×6000

250

100-400

16.2

22

7.5

6060×2720×3980

4YKJ2060

4

2000×6000

250

100-400

16.2

30

8.5

6060×2720×4720

2YKJ2460

2

2400×6000

300

150-600

16.2

22

7.8

6060×3120×3650

3YKJ2460

3

2400×6000

300

150-600

16.2

30

9.35

6060×3120×4080

2YKJ2070

2

2000×7000

300

200-480

16.2

22

8

6880×2760×4390

3YKJ2070

3

2000×7000

300

200-480

16.2

30

9.5

6880×2760×4820

2YKJ2270

2

2200×7000

300

200-550

16.2

22

8.5

6880×2960×4390

3YKJ2270

3

2200×7000

300

200-550

16.2

30

10

6880×2960×4820

2YKJ2570

2

2500×7000

300

250-650

16.2

30

10

6880×3260×4390

3YKJ2570

3

2500×7000

300

250-650

16.2

37

11.5

6880×3260×4820

2YKJ3070A

2

3000×7000

300

300-800

16.2

22×2

14

6880×3760×4390

3YKJ3070A

3

3000×7000

300

300-800

16.2

30×2

16

6880×3760×4820