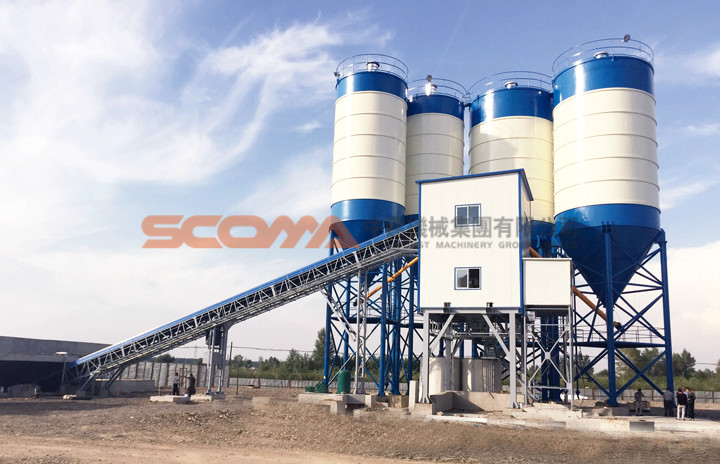 The concrete mixing plant features grand appearance, sound environmental performance and high production efficiency. It applies to large and medium building construction, jobsite construction for water and power projects, highways, ports, bridges and airports as well as central concrete mixing facilities for commercial concrete, pipe piles and cement prefabrication. The high-standard environmental main mixing plant is a fully enclosed box steel structure (with option for concrete structure below the mixing floor as required by the user). The belt conveyor is protected with a rain cover. All powder material is charged, measured, batched, mixed and discharged in enclosed conditions, which significantly limits dust and noise pollution to the ambient environment.

High-quality mixing performance, stable operation, high mixing capacity, option for stone-enveloped mixing process for dry, semi-dry, plastic concrete and concrete of all mix ratios, which significantly improves the quality of the concrete produced. The humanistic operation and control property is enabled by computer network and computer-based automatic control, which provides full-process network monitoring of the concrete production and fully automatically controlled production. Power auxiliary functions are provided including pre-storage of mix ratio data and automatic statistical reporting, which enables standard management of the production processes.
Easy maintenance and repair, with a platform or access stairway furnished for each of the maintenance points, facilitating inspection, repair and maintenance.
ITEM DESCRIPTION

PLANT MODEL

HLS60

HLS80

HLS100

HLS150

HLS240

Mixer

JS1000

JS1500

JS2000

JS3000

JS4000

Production Capacity (M3/Hr)

60

90

120

180

240

Storage hopper capacity (M3)

3x12

3x12

4x20

4x20

4x40

Max feeding aggregate size

Pebble (mm)

80

80

80

80

80

Crusher Stone (mm)

60

60

60

60

60

Belt conveyor capacity (M3/Hr)

160

210

320

400

600

Discharge height (M)

3.8

3.8

3.95

3.95

3.95

Aggregate scaling accuracy (%)

±2

±2

±2

±2

±2

Powder scaling accuracy (%)

±1

±1

±1

±1

±1

Water scaling accuracy (%)

±1

±1

±1

±1

±1

Additive scaling accuracy (%)

±1

±1

±1

±1

±1

Total power (Kw)

30

40

68

85

102

Overall dimensions
(FOR INCLINED BELT)

L (mm)

50000

50000

52000

54000

55000

W (mm)

13000

13000

20000

20000

36000

H (mm)

11000

11000

13000

14000

17000

Overall dimensions
(FOR V-BELT)

L (mm)

34000

35000

28000

W (mm)

13000

13000

20000

H (mm)

11000

11000

13000